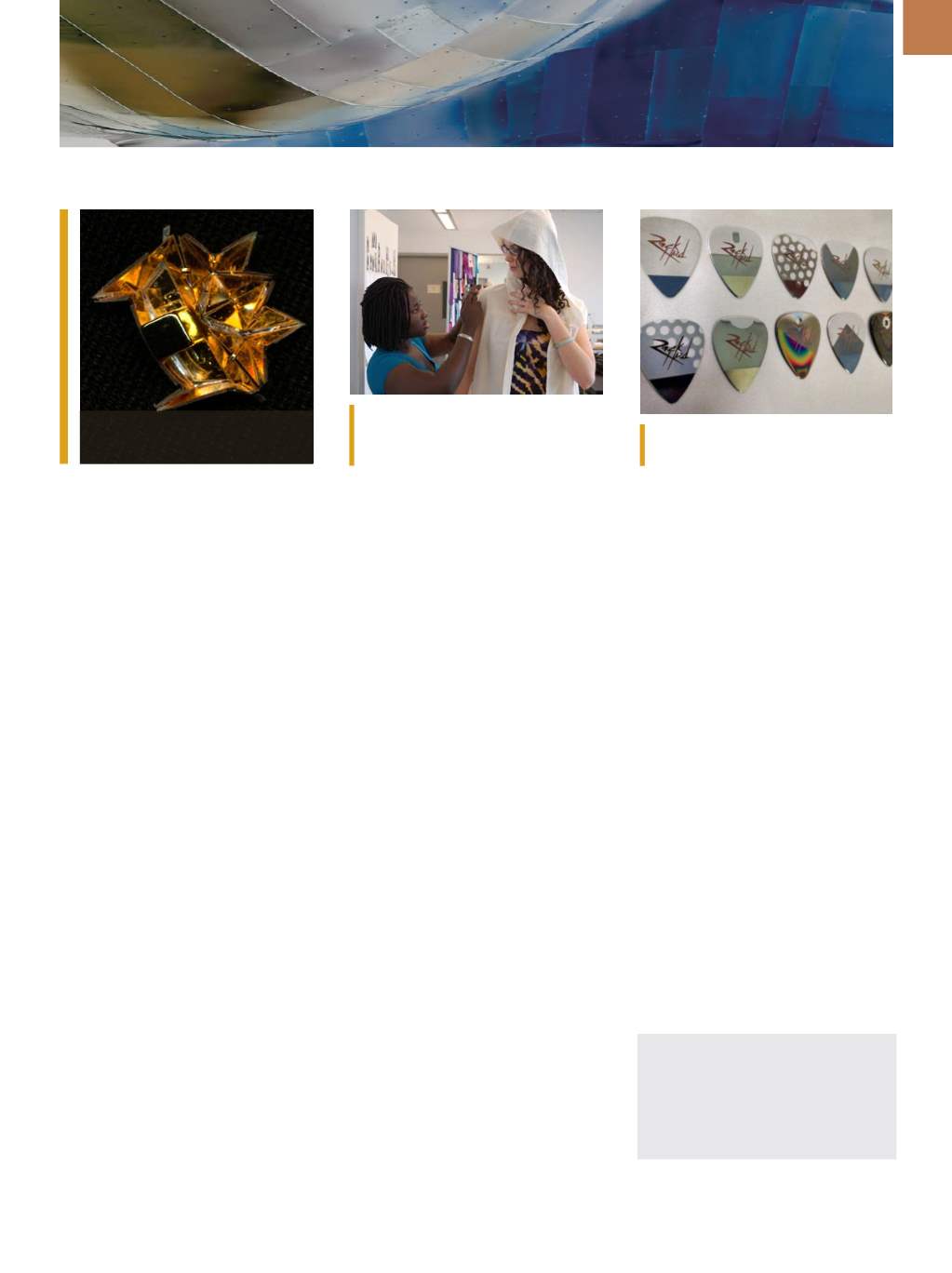 A D V A N C E D
M A T E R I A L S
&
P R O C E S S E S |
N O V E M B E R / D E C E M B E R
2 0 1 5
7
MINIATURE ORIGAMI ROBOT
MOVES MAGNETICALLY
Researchers at Massachusetts In-
stitute of Technology, Cambridge, de-
veloped a printable origami robot that
folds itself up from a flat sheet of plas-
tic when heated and measures about
a centimeter in length. Weighing only
a third of a gram, the robot can swim,
climb an incline, traverse rough terrain,
and carry a load twice its weight. Other
than the self-folding plastic sheet, the
robot's only component is a perma-
nent magnet on its back. Movement is
controlled by external magnetic fields,
which cause the body to flex. Friction
between the robot's front feet and the
ground is great enough that the front
feet stay fixed while the back feet lift.
Then, another sequence of magnetic
fields causes the robot's body to twist
slightly, breaking the front feet's adhe-
sion and propelling the robot forward.
web.mit.edu
.
T-SHIRTS BATTLE BACTERIA
Juan Hinestroza and his students
live in a cotton-soft nanoworld, where
they create clothing that kills bacteria,
conducts electricity, wards off malaria,
captures harmful gas, and weaves tran-
sistors into shirts and dresses. "Cotton
is one of the most fascinating—andmis-
Are you working with or have you
discovered a material or its properties
that exhibit OMG - Outrageous
Materials Goodness?
Send your submissions to
Julie Lucko at
julie.lucko@asminternational.org
.
OMG!
OUTRAGEOUS MATERIALS GOODNESS
Centimeter-long origami robot.
Courtesy of Christine Daniloff/MIT.
Matilda Ceesay, left, drapes muslin on
an antimalarial garment worn by
Sandy Mattei.
understood materials," says Hinestro-
za, associate professor of fiber science,
who directs the Textiles Nanotechnol-
ogy Laboratory at Cornell University,
Ithaca, N.Y. Taking advantage of cotton's
irregular topography, conformal coat-
ings of gold nanoparticles along with
semiconductive and conductive poly-
mers were added to the cotton fibers.
The technology may be embedded into
shirts to measure heart rate or analyze
sweat, sewn into pillows to monitor
brain signals, or applied to interactive
textiles with heating and cooling ca-
pabilities. Synthesizing nanoparticles
and attaching them to cotton not only
creates color on fiber surfaces without
the use of dyes, but the new surfaces
can efficiently kill 99.9% of bacteria.
For more information: Juan Hinestroza,
607.255.7600,
jh433@cornell.edu
,
www.
cornell.edu
.
PICKIN' UP GOOD
VIBRATIONS WITH ROCK
HARD GUITAR PICKS
Genvac Aerospace Inc., Cleveland,
launched a crowdfunding campaign
introducing Rock Hard Metal, a line of
diamond-enhanced guitar picks. The
picks are coated under high vacuum
using the same techniques used to coat
military grade night vision optics for the
armed services.
"Creating this pick was somewhat
of an accident," says inventor Gerald
Mearini. "I just wanted a high quality
metal pick that I could use when I play
my 1985 Explorer. I had my technicians
make me a fewmetal picks, and I decid-
ed to put a layer of diamond-like car-
bon on it. When I tested the pick, I re-
alized that this is the best guitar pick I
have ever used."
The surface of the picks creates
the lowest coefficient of friction pos-
sible, meaning it will not break the
guitar strings. Wear that is typically ex-
perienced from a metal pick on metal
strings will not occur.
"This pick delivers an aggressive
predatory sound, and subtly generates
new spectral harmonics. It sounds like
youarehittingthestringswithadiamond
sword,"Mearini explains.
indiegogo.com/
projects/rock-hard-metal/x/9563023.
Stainless steel guitar picks feature a
diamond hard coating.