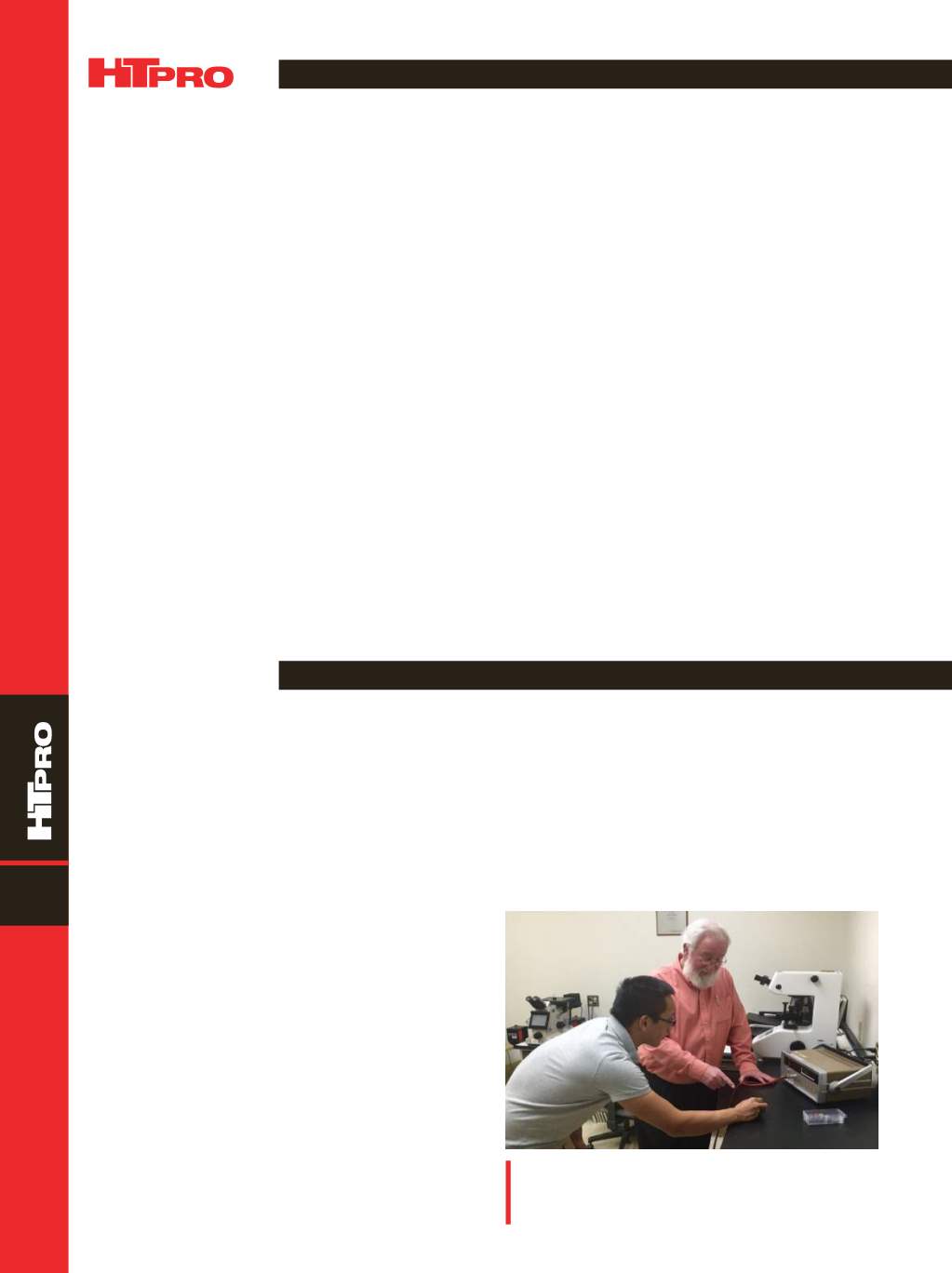 3 0
A D V A N C E D M A T E R I A L S & P R O C E S S E S | J U N E 2 0 1 6
4
HEAT TREATING SOCIETY NEWS
A special riverboat cruise on the Savannah River featur-
ing a delicious dinner and perfect weather was a highlight of
the conference. This IFHTSE Congress providedmany oppor-
tunities for fellowship and networking. It was well organized
and attendees from all over the globe enjoyed themselves.
Special thanks goes to the domestic and international orga-
nizing committees, ASM staff including Jeanelle Harden and
Lindy Good, and sponsors Houghton International Inc. and
Linde Gas for a successful conference.
REGISTRATION NOW OPEN
FOR HEAT TREAT MEXICO
The ASM Heat Treating Society will present a new
global event,
Heat Treat Mexico: Advanced Thermal Pro-
cessing Technology Conference and Expo,
scheduled
for September 20-23 at the Fiesta Americana in Queretaro.
The conference is designed for maintenance supervisors,
metallurgists, and production engineers and will provide a
bridge for relevant new technology for thermal processing
and how it is applied to the production environment in Mex-
ico. In addition to comprehensive technical programming,
exhibitors will have the opportunity, in a classroom environ-
ment, to present the implementation of their technologies
and products applicable to heat treating. Each presentation
will be reviewed for technical merit and will include minimal
sales-oriented content. For more information or to register,
visit
asminternational.org/web/htmexico.
CALL FOR PAPERS NOW OPEN
FOR HEAT TREAT 2017
Heat Treat 2017, the biennial co-located show from
the ASM Heat Treating Society and the American Gear
Manufacturers Association, is now seeking papers. Confer-
ence organizers are looking for original, previously unpub-
lished, noncommercial papers for both oral and poster
presentations. Technical areas of interest include additive
manufacturing, advanced processes, advances in heat
treating, applied energy, atmosphere technology, auto-
motive lightweighting, cryogenic treatment, induction
heat treating, microstructure development, non-ferrous
alloys, quenching and cooling, surface engineering, ther-
mal mechanical processing, vacuum processes and tech-
nology, and more.
Submit your abstract by December 30
to be considered for the Heat Treat 2017 technical pro-
gram.
For more information, visit
asminternational.org/
web/heat-treat-2017/cfp.
RESEARCH PROGRESS: NONDESTRUCTIVE
MEASUREMENT TECHNIQUES
The Center for Heat Treating Excellence (CHTE) at
Worcester Polytechnic Institute (WPI) in Massachusetts has
spent the past three years working on a research project
aimed at measuring surface hardness and case depth on
carburized steels for process verification and control. CHTE
is an alliance between the industrial sector and university
researchers that addresses heat treating needs. The expecta-
tion is that project results will enable companies to improve
the quality of heat treated products faster and more cost
effectively.
According to lead researcher Richard Sisson, Jr., George
F. Fuller Professor of Mechanical Engineering at WPI, and
CHTE technical director, the heat treating industry needs
accurate, rapid, and nondestructive techniques to mea-
sure surface hardness and case depth on carburized steels
for process verification and control. "Current measurement
methods require destructive testing with traveler specimens
that cannot always represent the configurations of the pro-
ductionpart, nor theassociatedsubtletiesof thermal history,
carbon atmosphere, and geometry influenced diffusion. Our
research will eliminate much of the guesswork," says Sisson.
Another challengewith the traveler specimenmeasure-
ment method is that it often requires periodic production
part cut-ups to validate the hardness and case depth of parts
after carburization, especially for critical shaft and gear teeth
configurations. A key issue for researchers is to distinguish
between hardness and residual stress, as most techniques
currently used to measure case depth are not only sensitive
to hardness distribution, but also residual stress.
Lei Zhang (left) and Rick Sisson (right) perform research aimed
at measuring surface hardness and case depth on carburized
steels.
CHTE UPDATE