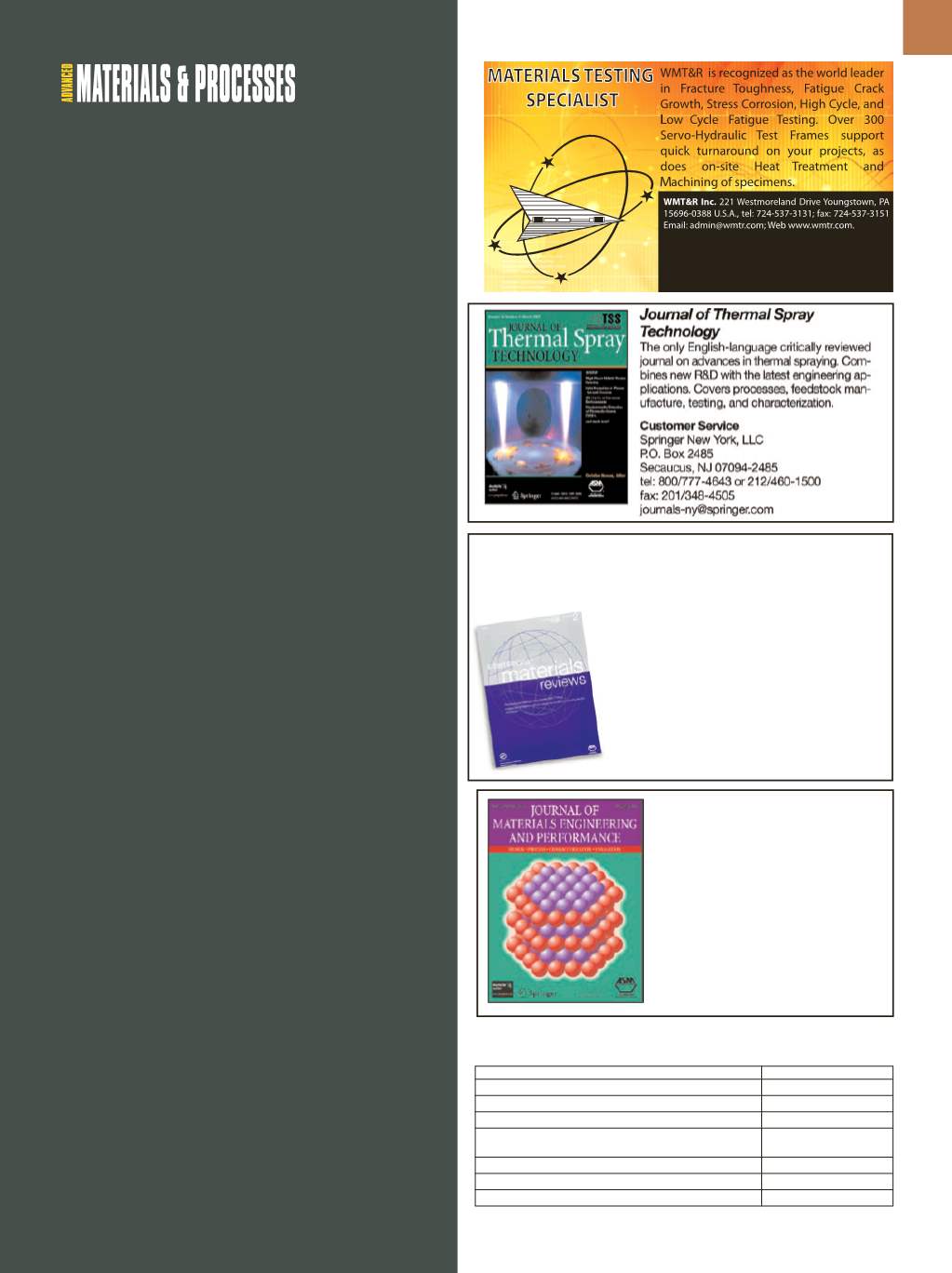 7 5
A D V A N C E D
M A T E R I A L S
&
P R O C E S S E S | J A N U A R Y
2 0 1 6
EDITORIAL PREVIEW
FEBRUARY 2016
Microscopy/Metallography/Materialography
Highlighting:
• Emerging Topics in Microscopy
• Jacquet-Lucas Award Winner
• ITSC Show Preview
Advertising Bonus:
• Signet Ad Study
Special Supplement:
International Thermal Spray and Surface Engineering
newsletter covering coatings in the aerospace and defense
industries.
Bonus Distribution:
M&M 2016 + IMS Annual Meeting
July 24–28, Columbus, Ohio
Advertising closes January 5
MARCH2016
Modern Materials for Energy/Automotive/
Power Generation
Highlighting:
• Automotive Composites Testing
• Field Assisted Sintering Technology
• Al Alloys for Automotive Powertrain Systems
Special Supplement:
HTPro
newsletter covering heat treating technology,
processes, materials, and equipment, along with Heat
Treating Society news and initiatives.
Bonus Distribution:
23rd IFHTSE Congress
April 18-22, Savannah, Ga.
Advertising closes February 4
Subscriptions/Customer Service:
800.336.5152 ext. 0
MemberServiceCenter@asminternational.org
Sales Staff:
Skip Wolfe,
Director, Sales and Marketing
440.338.5151 ext. 5226
skip.wolfe@asminternational.org
AM&P
/ASM Web Media
Erik Klingerman,
National Sales Manager
440.338.5151 ext. 5574
erik.klingerman@asminternational.org
iTSSe
/Affiliate Sponsorships
Kelly Thomas, CEM.CMP,
Manager, Events
440.338.1733
kelly.thomas@asminternational.org
WMT&R LTD.
19 Wildmere Road, Banbury, Oxon,
OX16 3JU UK; tel: +44(0)1295 261211; fax: +44(0)
1295 263096; Email: adminuk@wmtr.com;
Web: www.wmtr.co.uk.
AD INDEX
Advertiser
Page
Ipsen Inc.
5
Master Bond Inc.
11
NSL Analytical Services Inc.
IBC
Shimadzu Scientific Instruments Inc., Subs.
Shimadzu Corp.
25
Struers Inc.
IFC, 15
Thermo-Calc Software AB
13, BC
Westmoreland Mechanical Testing & Research Inc.
75
The ad index is published as a service. Every care is taken to make it accurate, but
Advanced
Materials & Processes
assumes no responsibility for errors or omissions.
IMR – The State of Materials Technology
in One Concise Review
International Materials Reviews
publishes peer-reviewed critical assess-
ments of literature on all aspects of materials science and engineering six
times per year. IMR provides timely, authoritative, and
relevant introductions to current thinking, develop-
ments and research in carefully selected subjects.
Get a true picture of the "state of a particular technol-
ogy" for topics ranging from the theory and practice
of extraction, production, fabrication, properties, and
behavior of materials, to actual usage. Research
and knowledge leads to innovation.
Subscribe today at
www.asminternational.org/journals.
Journal of Materials Engineering
and Performance
Focuses on industrial performance meas-
urement. Primarily comprised of real-world
engineering applications; contains some
original research. Presents a clear under-
standing of the relationships between ma-
terial selection, processing, applications,
and performance.
Journals Customer Service
233 Spring Street
New York, NY 10013, USA
tel: 800.777.4643 • fax: 201.348.4505
journals-ny@springer.com
Dictionary of Metals
by Harold M. Cobb
The authoritative reference work
for terms and definitions of metals,
history, discoverer, naming, meaning,
applications, significance of the
discovery and physical properties. Also
includes a timeline of important events
in the history of metals and metallurgy.
Product Code: 05359G
Order online at
www.asminternational.org/store
nov amp
front_back_am&p master template 2010 QX6.qxt 11/6/2014 10:36 AM P
age 74