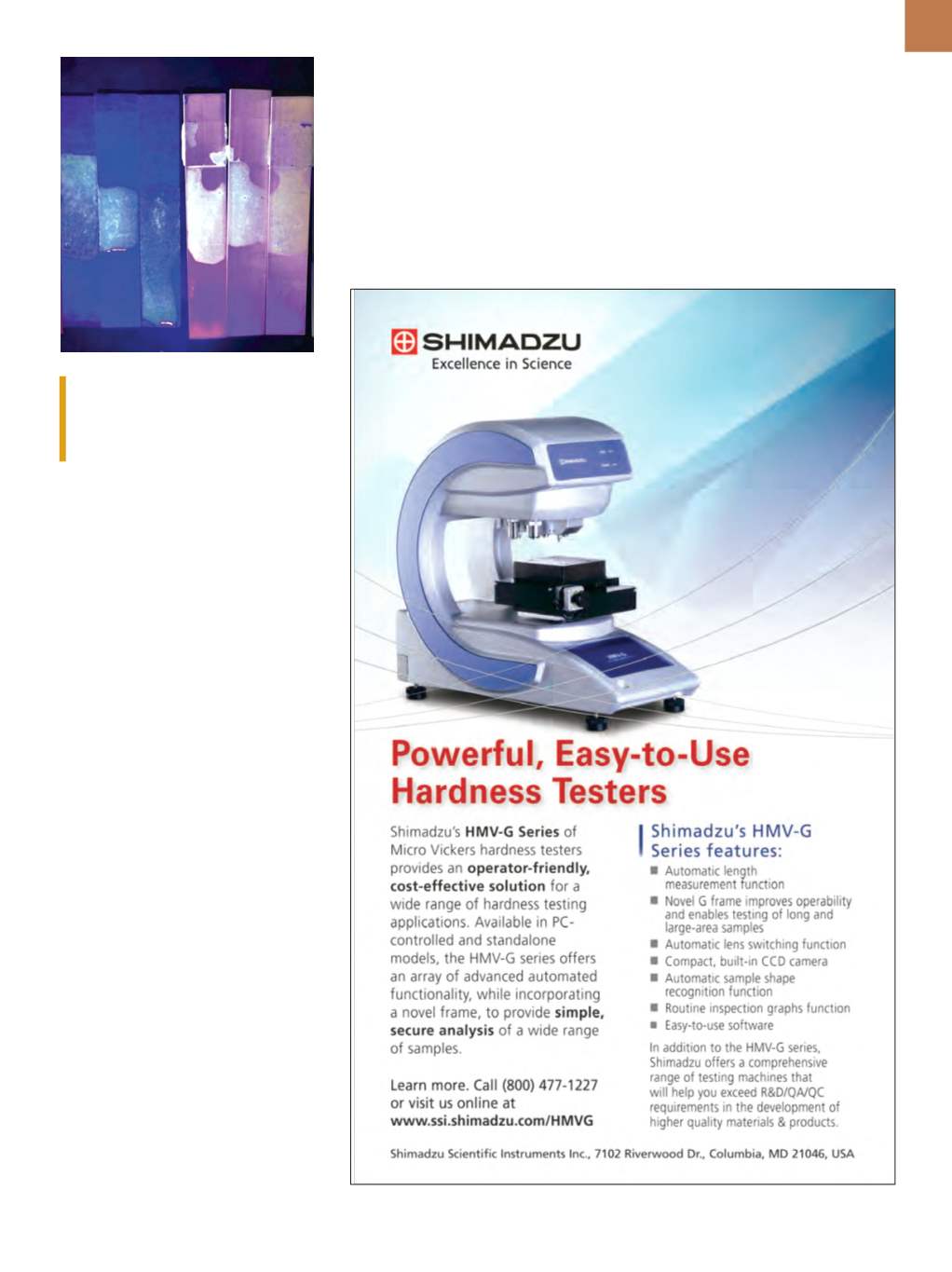 A D V A N C E D
M A T E R I A L S
&
P R O C E S S E S | J A N U A R Y
2 0 1 7
1 1
new magnet will also allow research-
ers to vary the field strength and tog-
gle between elements in a sample,
increasing data volume and quality.
nationalmaglab.org.
COLOR ME STRESSED
Researchers at the Laboratory
for Systems Integrity and Reliability
(LASIR) at Vanderbilt University, Nash-
ville, Tenn., developed a new type of
smart sensing material that changes
color as it is subjected to different
loads. This "mood ring material," which
could be used to detect infrastructure
damage before it becomes critical,
consists of an optically clear polymer
matrix embedded with 1-5 wt% white
light quantum dots that emit broad
spectrum light—unlike those used in
other sensing materials, which emit
only specific wavelengths. When fiber-
glass and aluminum strips coated
with the new material are subjected to
varying levels of external load under
1250 lb, the intensity of the material's
emission spectrum decreases as the
load increases. Under higher stresses,
results are more complex. Compres-
sion tests on epoxy cylinders show
the emission spectrum increasing
with stress—possibly because defor-
mation crowds nanoparticles into the
testing area. When surface-coated
fiberglass samples are loaded under
tensile stress, the emission spectrum
decreases until fibers begin to fail, at
which point it begins to rise—possibly
because previously hidden nanoparti-
cles are exposed when the fibers split.
Fiberglass and aluminum test strips
illuminated by UV light. White areas show
polymer/quantumdot coating. Courtesy
of LASIR Lab, Vanderbilt University.
The new material could prove more
effective and affordable for detecting
damage than today's alternatives—a
complex network of sensors or inspec-
tion by the human eye.
vanderbilt.edu.