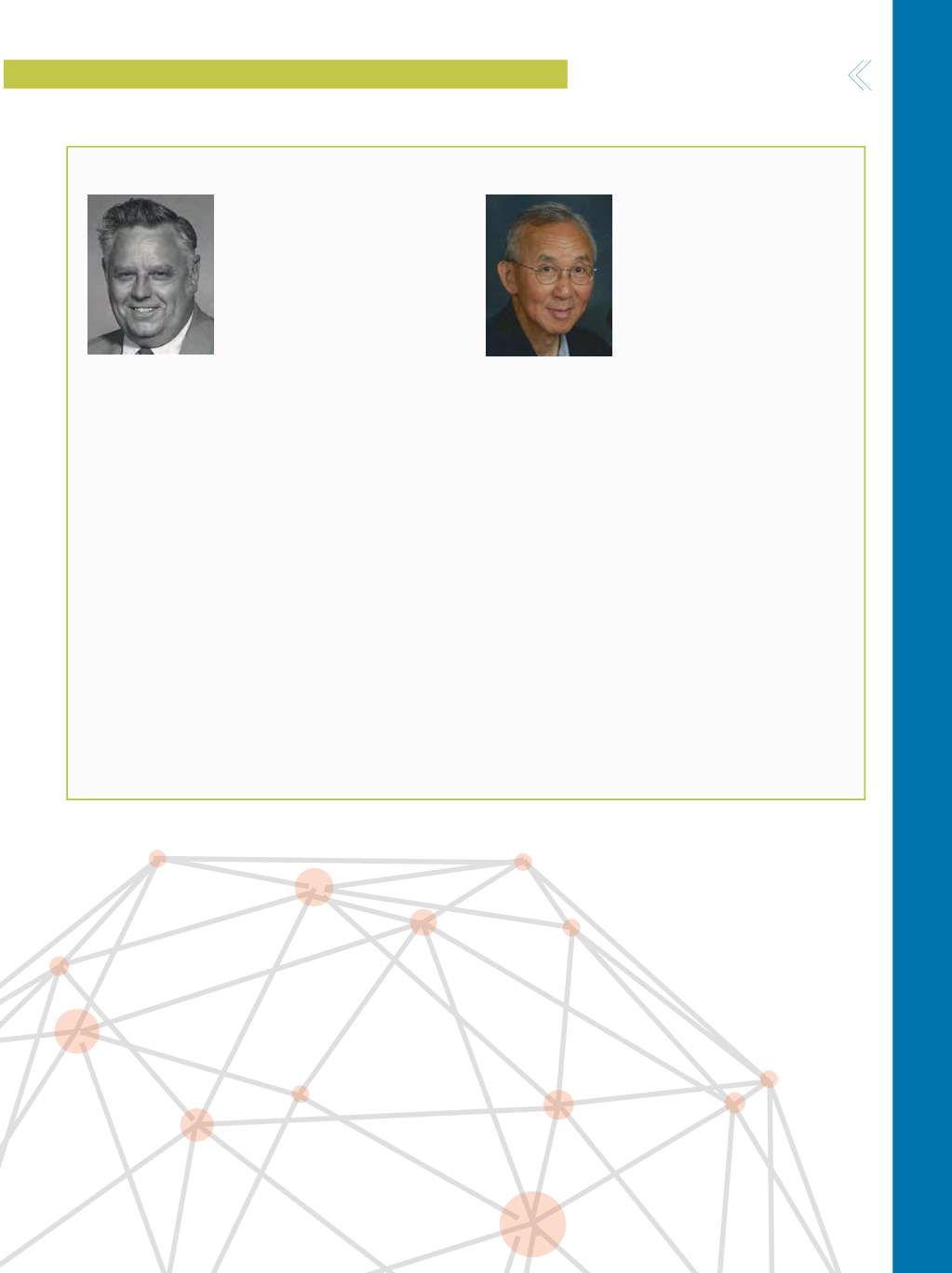 HIGHL IGHTS
A D V A N C E D
M A T E R I A L S
&
P R O C E S S E S |
N O V E M B E R / D E C E M B E R
2 0 1 5
7 7
IN MEMORIAM
IN MEMORIAM
John F. "Jack" Smith, FASM,
died on September 26 at age 92.
He was born on May 9, 1923, in
Kansas City, Kansas. Smith
enlisted in the Navy in 1942 and
spent his service years as a fighter
pilot on the carrier USS Suwannee
in the South Pacific during WWII.
In 1948, Smith began a 40-year
career at Iowa State University (ISU) and Ames Labora-
tory where he was a professor of metallurgy and a senior
scientist. He served as chairman of ISU's Department of
Metallurgy from 1966 through 1970, and was a section
chief for the Metallurgy and Ceramics department at
Ames. With a background in metal behavior, Smith
co-developed an ultrasonic method for measuring bolt
tension, which improved on the traditional torque-
wrench method of measurement. Smith retired from ISU
and the Ames Laboratory in 1988, at which time he
became an associate scientist and professor emeritus.
He was elected a Fellow of the American Institute of
Chemists in 1969 and the American Society for Metals in
1984. Smith served for 24 years as editor of ASM's
Jour-
nal of Phase Equilibria and Diffusion
. Donations to the
John F. Smith Scholarship Fund may be made in his
honor by contacting the ISU Department of Materials
Science and Engineering.
Robert Peh-Ying (Bob) Wei,
FASM,
passed away on Septem-
ber 28. He was born in Nanjing,
China, on September 16, 1931,
and emigrated from China to the
U.S. in 1947. Upon completing his
Ph.D. at Princeton University, he
worked at the US Steel Research
Center in Monroeville, Pa., until
1966. He then joined the Mechanical Engineering and
Mechanics department at Lehigh University, where he
served for over 40 years as a professor and department
chair. He was a leading international authority on the
fracture mechanics, fatigue, and corrosion failure of air-
craft materials, helping develop current predictive mod-
els for aircraft component life and safety. Wei received
ASM's Henry Marion Howe Medal in 1979.
John Beverley Clark, FASM,
died on September
16. Born on July 13, 1924, in Port Dalhousie, Ontario,
Clark was a metallurgical engineer and researcher edu-
cated at the University of Toronto and Carnegie Institute
of Technology. After earning his doctorate, Clark pur-
sued research at Dow Chemical Co. in Midland, Mich.,
Ford Motor Co.'s basic research laboratory in Dearborn,
Mich., and the University of Missouri-Rolla. On several
leaves of absence from the university, he served at the
National Science Foundation and the National Institute
of Standards and Technology. In 1960, he received ASM's
Henry Marion Howe Medal.