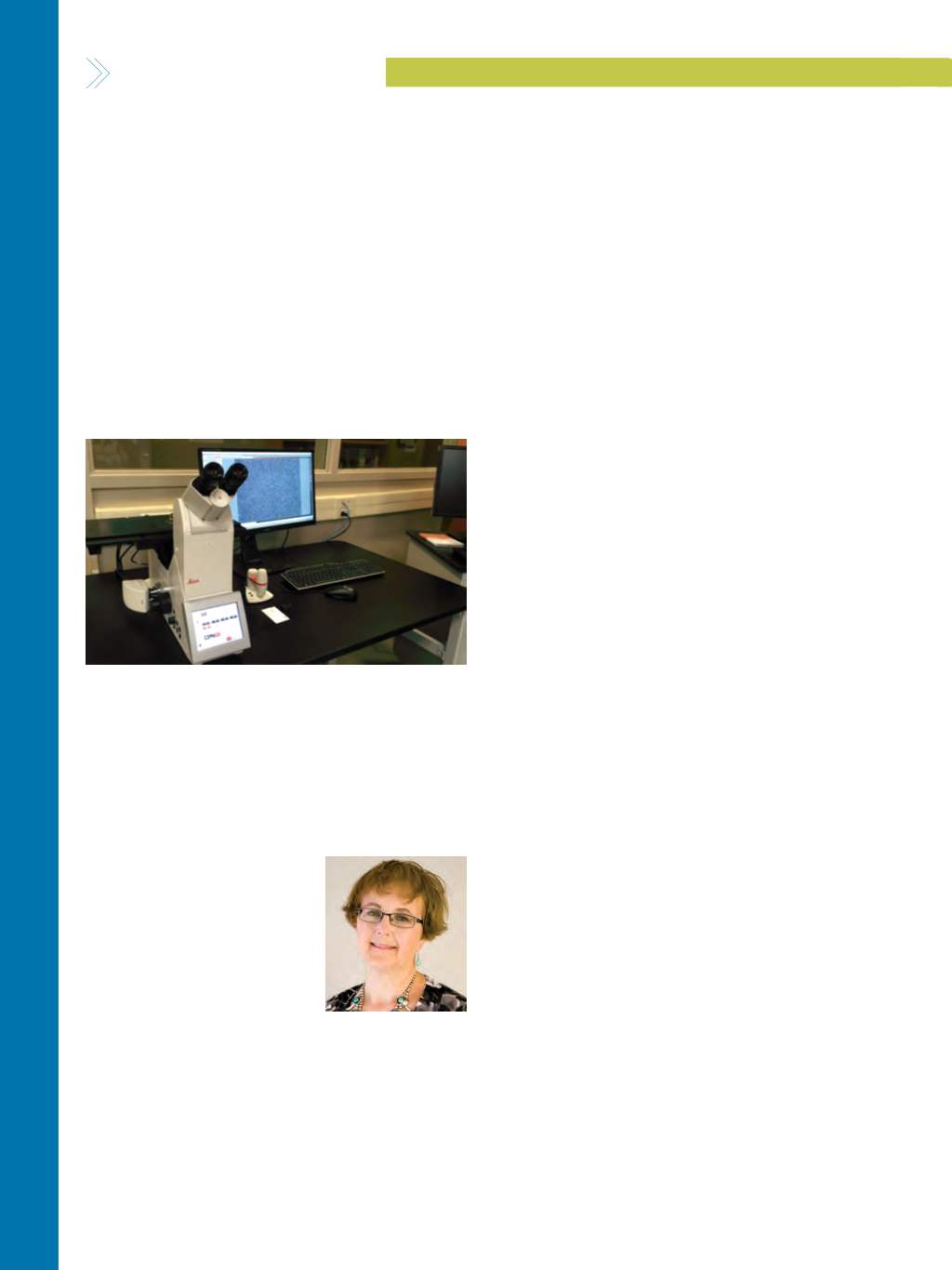 COMMITTEE COUNCIL CHAIRS
HIGHL IGHTS
A D V A N C E D M A T E R I A L S & P R O C E S S E S | F E B R U A R Y / M A R C H 2 0 1 7
7 4
W EN IN NGINEERING
ASM and Leica Microsystems Announce
Educational Partnership
ASM International and Leica Microsystems, Buffalo
Grove, Ill., recently announced a new educational partner-
ship. ASM will host classroom programs using inverted and
digital microscopes for inspection and analysis in metal-
lography, manufacturing, and materials research through
this partnership. These programs will rely on sophisticated
equipment from Leica Microsystems, including the Leica
DMi8 modular inverted microscope system for materials
science and the Leica DMS300 digital microscopy system, as
well as Leica LAS X advanced measurement and image anal-
ysis software. The partnership will provide learning oppor-
tunities for new imaging and inspection techniques.
WOMEN IN ENGINEERING
This profile series introduces leading materials scientists
from around the world who happen to be females. Here we
speak with Janet Sater, FASM, research staff member at the
Institute for Defense Analyses (IDA).
What does your typical workday look like?
I don't know if there is such a thing as a typical day. I
work in the science and technology
division (STD) of a not-for-profit,
federally funded research and
development center chartered to
work only for the Department of
Defense (DoD) and its associated
agencies. STD provides objective,
independent analyses of science
and technology issues related to
national security for our DoD sponsors. The range of topics
on which we work is very broad and includes energy, optics,
materials and armor, robotic systems, training, and human
factors, among others. We also work with other divisions in
our company that are focused on system and operational
testing, cost analysis, and so forth. I might work on multiple,
widely different projects on any given day.
What part of your job do you like most?
I love that I am continually learning something new. My
graduate school research efforts were focused on aspects of
aluminummetallurgy. Since I started working at IDA, however,
my efforts have barely touched on aluminum. My work has
focused on numerous other materials and structures includ-
ing polymer composites for spacecraft; high-temperature
metal matrix composites for turbine engines; smart materials,
devices, and structures for space, air, and underwater systems;
robotics; advanced manufacturing processes; biological mate-
rials for camouflage; and material supply chains and more.
Pretty cool for ametallurgist, but also challenging and fun.
What attracted you to engineering?
I began my college career in biology with the intent of
becoming a marine biologist. Because I like working with my
hands and am very practical, I changed majors to engineering,
but I wondered which field? My father, an electrical engineer,
worked for a company that employed all kinds of engineers,
and he arranged several meetings for me. Metallurgical engi-
neering seemedmost interesting tome. I amvisually-oriented,
and the idea that I couldmix up some elements and chemicals
to create a metal and then look at it under a microscope and
knowwhy it looked thatwaywas very appealing. I never looked
back. I finished my undergraduate degree in three and a half
years including an honors research project, and then headed
to graduate school at Purdue University for master's and Ph.D.
degrees. I've been very happy withmy choices.
What are you working on now?
I always have several projects going at the same time. I
recently finished a study on the supply chain for a particular
metal for a defense agency and I am currently completing
a survey of best practices by government and industry for
international technology exchange and transfer.
If a young person approached you for career advice
about pursuing engineering, what would you tell them?
Take all themath and science you can take in high school.
Those fundamentals will serve you well whatever engineering
field you choose. Find your passion. Be fearless in exploring the
new and different. Develop good communication skills, both
oral andwritten. Ask questions. Listen thoughtfully andwith an
openmind. Network—and not only electronically. Get involved
in relevant professional societies. Find good mentors, includ-
ing peers, advisors, bosses, and people you admire.
Hobbies?
Cooking, crafts (especially sewing, quilting, and bead-
ing), photography, reading, travel.
Last book read?
Candice Millard's "The River of Doubt: Theodore Roos-
evelt's Darkest Journey."
Would you like to be featured in an upcoming Women in Engi-
neeringprofile
?ContactVickiBurtatvicki.burt@asminternational.org
.
Sater